Give your child the best possible start in life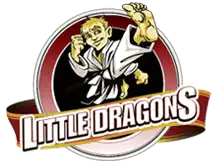 Classes times 4:00pm to 4:25pm.
Regular Class held Monday and Wednesday
Sparring Class held Tuesday and Thursday
Little Dragons focuses on improving Pre-School children's listening and building confidence, self esteem, concentration, discipline while improving co-ordination skills.
Give your child the best possible start in life: The Little Dragon's program is specifically designed for 4 to 6 year olds, with the emphasis on having fun, learning life skills and self-defense through Martial Arts.
The Little Dragons classes will provide your child with:
A positive sense of determination and focus
A fun and safe form of exercise
Instructors that are friendly, encouraging, and who serve as positive role models
Please bring your child for a free class, you will be allowed to sit next to the mat and watch your child having fun while learning.